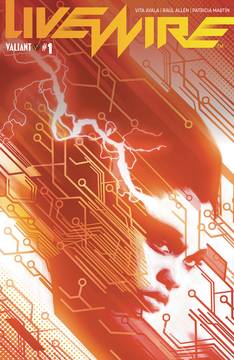 Amanda McKee is Livewire, a psiot (Valiant's version of a mutant or metahuman) with the power of technopathy, the ability to control technology, from a cellphone to advanced networking and computer systems. She is also someone who above all else tries to be a guardian, protecting her fellow psiots in any way she can. Livewire is Valiant's most powerful technopath and one of it's most popular characters who, before now at least, has never had an actual solo title series. The story is a direct continuation of the events of 2018's Harbinger Wars 2 miniseries and some references to it will be made in this review.
During the aforementioned HW2 miniseries Livewire took on the United States government as well as other Valiant universe heroes during her efforts to protect her follow psiots from being hunted down and killed as tensions between normal people and psiots escalates. One of her first actions towards that goal was to shut off power across America and in Livewire #1 she finds out that something done with the best of intentions can have unexpectedly horrendous consequences.
Livewire #1 opens with her using her abilities to save a plane from crashing, further emphasizing her desire to protect people and showing that she's not just interested in protecting her fellow psiots. As soon as she makes it back to her safe house you see her using her abilities to find a safe place for her fellow members from her Secret Weapons team, which is also the name of the miniseries where the team was formed, stressing again that this is someone who is not out to harm others. As you see throughout the issue though the feeling is definitely not mutual as she is now public enemy #1. The issue concludes with a battle between her and what appears to be a new group, naturally leaving her in a perilous situation and making you wish #2 was already out.
The story by Vita Ayala is very well written and brought to life wonderfully by the artist team of Raul Allen and Patricia Martin. They do a great job designing the different settings the issue takes place in. The fight scenes are well rendered and have a nice tight style that makes it easy to follow and see exactly what's going on.
If you're looking for a new title by a great publisher who many overlook then you can't go wrong with Livewire #1.
10/10
Livewire #1 releases on December 19, 2018!
---
Written by John Sprague. He is a fan of Valiant, Green Lantern, Daredevil and too many other comics and characters to mention, but trust us, it's a lot.